It's been OVER A MONTH since my last blog…
It is now 23:03 and I've just got home and I am shattered.
SO tired…
I've been meaning to update this for ages now – and I promise.. I will.
Good boys keep diaries.
Bad boys don't get time.
That's all you need to know for the time being I guess…
I'm doing two plays, a film, I've started doing charity stuff again and I'm trying to hold down a decent social life whilst also taking in the wonders of the new world that is known as 'dating' – it's all very odd.
Jen and I are no more – not that there ever was an official 'Jen and I' but yeah – that happened a fair while back now..
So that's that sorted – we're still very much in contact though – she's a top bird and we always said we'd remain firm friends – so I'm glad we've been able to..
Cheers you.
Anyway – enough about her.. Hehehe (sorry)
What have I been up to?!
WELL…
LOADS to be fair.
There's nowhere near enough time to cram it all into one sesh – I'm shattered – NEED BED.
Quickly – I've rediscovered my love for clubbing/dancing.
I've got into the habit of not wearing underwear. At all times.
I have blonde in my hair.
I have some wicked plans for November.
I've discovered my uncle plays the bassoon in some weird band in Essex.
All very weird.
Also – one of those sentences is not true..
Answers via comments/messages to the usual address… ;o)
But yes.
Loving my job.
Loving my life at the mo.
Working hard and playing hard.
Catching up with me a bit now…
"HENCE THE NEED FOR SLEEP JAMES!"
..note to self – stop leaving notes for self.
Ahem – anywhoo – I'm signing off now.
I hope to come back with a (proper) update very soon..
In the meantime however..
Here's me: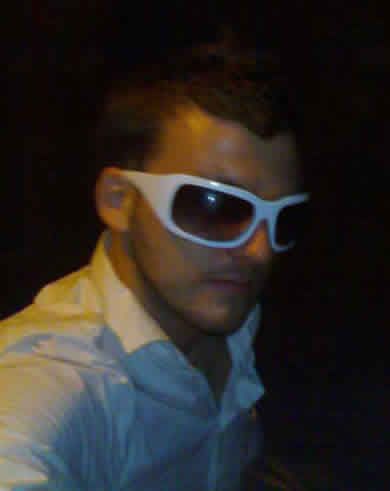 To quote:
"It's dark… and we're wearing sunglasses"
(what film?)
On that note: My Sunglasses… Too small do you think?