From Rotherhite to Wapping and back again.
Back in May, my friend Robbie and I managed to bag a couple of [super rare] tickets to walk the original Thames Tunnel.
If you've never heard of the Thames Tunnel before, it's the underwater tunnel that lives between Rotherhithe and Wapping. You'll know it today as part of the London Overground network.
Hang on, let me look it up on Wikipedia:
The Thames Tunnel is an underwater tunnel, built beneath the River Thames in London, connecting Rotherhithe and Wapping. It measures 35 feet (11 m) wide by 20 feet (6 m) high and is 1,300 feet (396 m) long, running at a depth of 75 feet (23 m) below the river surface measured at high tide. It was the first tunnel known to have been constructed successfully underneath a navigable river, and was built between 1825 and 1843 using Marc Isambard Brunel's and Thomas Cochrane's newly invented tunnelling shield technology, by Brunel and his son Isambard Kingdom Brunel. The tunnel was originally designed for, but never used by, horse-drawn carriages. It now forms part of the London Overground railway network.
On its opening day in 1843 it is said over fifty thousand people paid a single penny to walk through Brunel's tunnel and within three months it is reported that over one million people had been through.
Amazing.
Some 170 years later, I paid 1800 pennies and descended into the tunnel myself but not via the stairs of Londoners old, instead by way of platform 2 at Rotherhithe station.
I don't think there'll be many of you that can say that they've walked on the tracks around London. It's definitely worth doing (even if it is a little hairy when you first get down there).
Once the first part of 'OMG! We're on the frickin' tracks!' excitement subsided, we entered into the main event.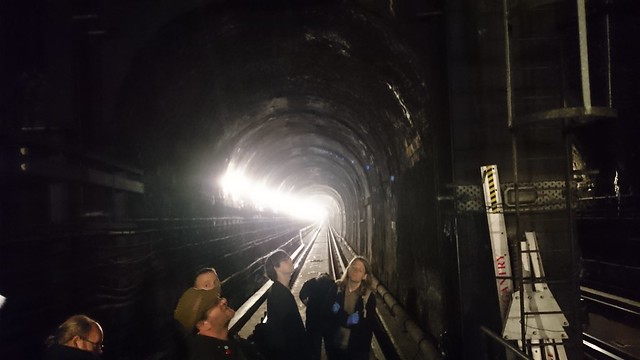 And we were not disappointed.
IT WAS SO AWESOME.
If you know me even slightly then you probably know that I'm a massive tube geek. I love this stuff. Be it snapping deserted underground stations in the name of #EmptyUnderground or even headed down to the disused tracks of Aldwych Station – if it's to do with the London Underground, I'm all over it.
You could argue the Thames Tunnel was the first true 'London Underground' and even though it has found its home as part of the Overground network, I'll never pass through it feeling the same way ever again.
I don't know how often these walks are arranged (I'm guessing only a couple of times a year, maximum) but keep an eye out for them, they're totally worth it, and all the money goes towards the upkeep of the Brunel museum nearby – so it's helping a good cause too!
The guide we had was pretty awesome, told us about the huge dinner parties they used throw down there and the different uses that it had over the years. I could recount those stories here but you'd be better off just doing the tour yourself.
Additional reading: