Good evening everyone..
A bit of a cop out I know – but I've been SUCH a busy boy lately my blogging skills have suffered..
For this – I am truly sorry.
But in the meantime – here are something that have made me laugh!
🙂
First up!
Me, in my ridiculously tiny sunglasses —->
I'm actually thinking about taking them back and getting some bigger ones..
They just don't seem big enough.. y'know?
NEXT:
I have a friend called Vicky. She is lovely.
Beautiful, funny, intelligent, witty.. everso caring and considerate but also a teeny bit bonkers..
(which is probably why I love her like I do)…
Anywhoo – I stayed there a while back and in the morning she had to do her nails (as women do)…
So – I'm minding my own business and Vicky starts talking about her 'monkey'.
"Your what?"
"I need my monkey to dry my nails…"
"EH?!"
Next thing I know out pops this thing: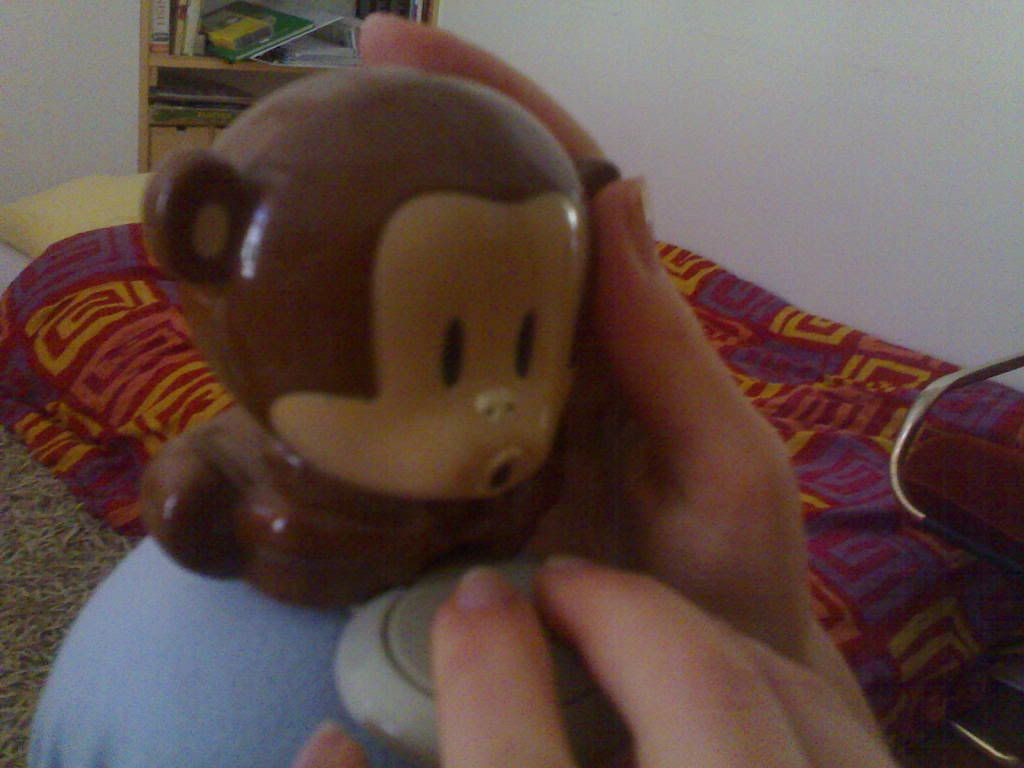 HAHAHAHAHAHAHA!
You put your fingers on the Monkey's 'nanas and he blows air over your nails for you!
I don't know why, but I found this absolutely hilarious.
Vicky just giggled away with me.. but it was just SO random..
Hahaha – I'm still smiling about it now.
Hehehe…
NEXT!
This is my friend Will.
Trying to use his new BBQ.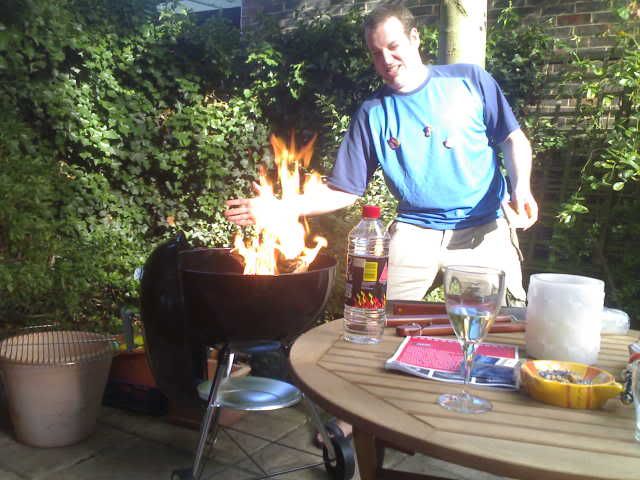 I think that's all I need to say in regards to that one!
In other news..
Here's a picture of me and Alex's Giant Ring —- >
I love Alex's Ring.
Alex's Ring loves me.
We were meant to be.
Don't you think?
Also..
I don't know why that pic is yellow.
But it is.
Maybe it's leaking from my hair…
Who knows?
Moving on…
I saw this at my Mum's house the other weekend.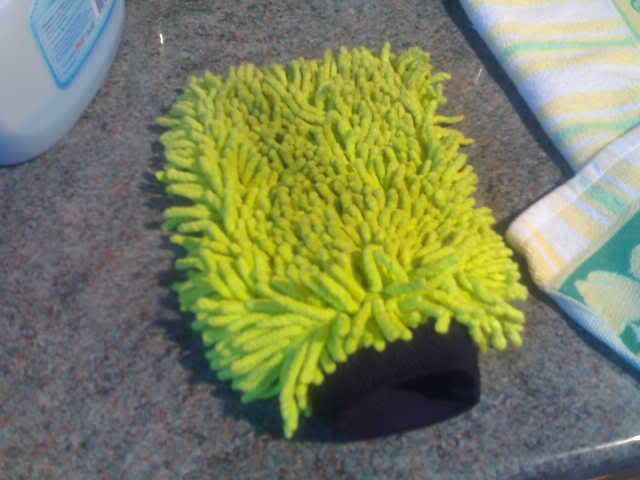 HAHAHAHAHAH!
Apparently its a Duster… I just laughed so hard when I saw it.
HOW RANDOM?!
Hehehehee…
That very same weekend – while I was visiting friends and family on the Isle of Canvey I nipped round to see my mate Tony..
He asked me if I like his dishwasher…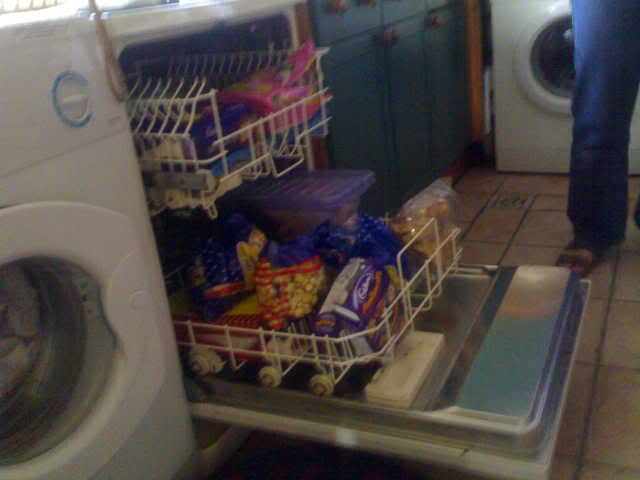 He then burst into fits of laughter..
As did I.
Who buys a dishwasher TO KEEP FOOD IN?!
WHO?!
Hahaha…
Remember me in my *super-cool* Sunny-G's?
Well…
– because they are SO super-cool –
…whenever I produce them, people just want to try them on!
So here – for your delectation – is a selection of random people wearing my sunglasses…
James, Anthony, Alex, Mark, Jim, Basti, Alio (feat. Jess) and Rich…
…I salute you all!
Every single one of you!

Right then..
A couple more then I really must chip off to bed…
This is my mate Flashy blatantly abusing the law…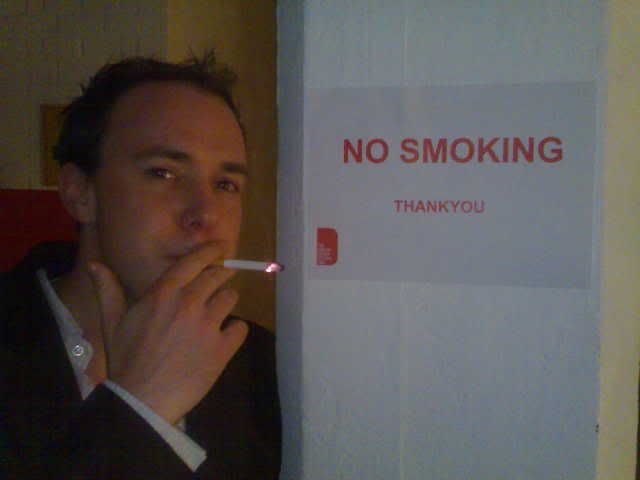 Hehe
..and while we're on the subject of Flashy..
This is my friend Alio.
She's a good girl.
But sometimes she likes to be silly in the middle of very important meetings…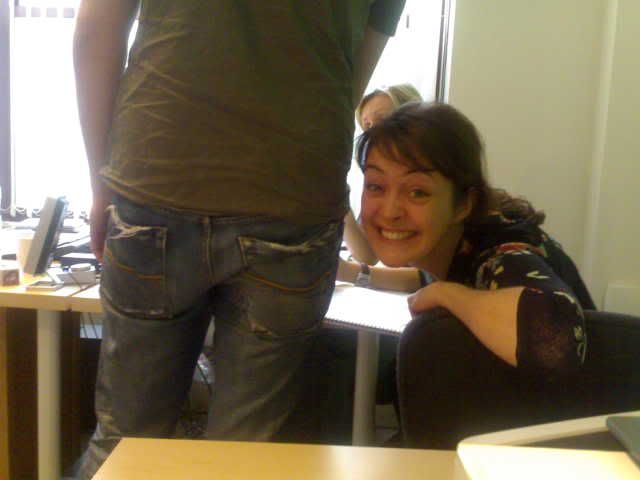 ..but, when not posing alongside Flashy's backside, Ali Bongo likes hiding under blankets, drinking strawberry cider, listening to all sorts of ker-razy music and generally having fun taking amusing photos of herself, and others.
Check out her myspace in fact.. you'll see what I mean!
..and I *think* ..that's everything.
_ _ _ _ _ _ _ _ _ _ _ _ _ _ _ _ _ _ __ _ _ _ _ _ _ _
Quick update Lifewise:
I'm having a great time still..!
Been out clubbing not as much – but still having fun…
Kind of seeing someone at the moment – that's all cool.
(and I think she's probably going to read this so I can't really go into TOO much detail – wink wink – nudge nudge – you know who you are)
Still working bloody hard.
Still loving my job.
If you're still not sure about what I do –
"..simply text 'Mobi Daily' to 63333 for your FREE download…"
Then you'll see..
Advert over..
..well – nearly:
Very soon – thanks to the lovely intelligent people at Mobizines – you'll be able to read my blog ON YOUR MOBILE!
…
…
I KNOW!
HOW EXCITING IS THAT?!

Errr… yes – where was I?
Had a great night clubbing at the weekend with one of my new best mates Liv (she's my hairdresser too – she's wicked) – her fella runs this night at Isha in Kingston on the last Saturday of every month called Sugafem.
Playing some wicked funky house and some sexy dirty classics..
Lovin' it…
Ended up going back to some dudes house where he had some decks – mixin' it up styleeee…
Hehe..
I'm STILL rehearsing too by the way!
Five weeks now until Our Country's Good goes up.
Looking forward to that – made some real proper progress with my character..
Most of my main scenes are one on one with another bloke, so the rest of the cast hasn't really seen what I'm doing with it yet.. but I'm looking forward to showing him off as it were – I'm aiming for something a bit edgy.. a bit.. intimidating y'know?
(I'm playing Ketch Freeman if you know the play at all)
But yeah – the Director, Jess – has really kind of encouraged me to explore this (what seemed at first to be a small) role.. and has given me some great direction.
Got a real good working relationship there.. proper director/actor respect y'know?
I'm really happy with it… …all I've gotta do now is get off book!
EEEK!
Ahem…
This month also sees the start of rehearsals for The Nativity too.
I think I've got my first call this Sunday – so fingers crossed for that one.
I'm really looking forward to working on this – the Director has got quite a good vision it seems and there's an energy about him that reminds me of a good friend of mine.. so yeah – should be good.
The weekend also gave cause for a celebration too!
One of my closest friends, Natalie, managed to drag herself out of the horrid clutches of all things Essex and moved herself (and her lovely li'l sis, Squiffy) to sunny Surbiton!
Which.. for those of you who DONT know.. is about 30mins on the bus from here!
WHICH.. for those of you who dont know.. is SO much better than 2hrs on the train from here!
So – big HOORAH for Nats!
(I'll come visit you soon darlin' – when you're all settled in like)
*sigh*
I always intend to write such short blogs – but it never happens!
Dammit…
Ok – quick wrap up…
Thanks for reading!
Things to do for next time…
I must email Sarah Bennett.
I must call Victoria Jackson.
I must text Selina Forrest.
I must hug Ali Bongo.
Laters Potatas!
PS – I'm a bit of a cheat – I've done two of those things already..
Ah well!
Hehe.. 'til next time true believers..