'Fringe Notes'
Leg one into my two leg holiday and, flying somewhere over the North Sea, I figured I'd write up the short notes I made during my first ever trip to the Edinburgh Fringe Festival, in Scotland.
In total, my good friend Robbie and I managed to cram in eighteen shows in just under three and a half days. If you're off to the Fringe yourself this month (it's on until the end of August) then the following reviews and recommendations might be of use to you. If you're not off to the Fringe this month, why not read them anyway? They might be interesting and I'm sure the performers behind them will be hitting the road again real soon.
Lets do this.
Day One – August 4th, 2013
1. HOLES
Blurb: Three conference organisers and a teenage girl are the sole survivors of a fatal plane crash on a remote tropical island.

Original Notes
Oh look, it's the bloke from the BT ad
Started well / funny
Central conceit of plane crash fairly believable
Twists and turns throughout? Not so much
Why did that character do that?!
Review
HOLES was the first thing we saw at the fringe and was probably the weakest of everything we saw. The actors were generally quite good, however the script (and to an extent the directing) let it down considerably. Part of the set up was that the play was being held at a 'secret location' which, as much as Robbie and I discussed it over the coming days, really added absolutely nothing to the overall concept. — 'Hey, they crash land on a beach so let's do the play… Near a beach!' (note: near, not on). Bah. Anyway, I don't like being highly critical of stuff. I just thought / hoped it'd be better.
Verdict
Skip.
2. Vikki Stone: Definitely
Blurb: After her smash hit, sell-out run in 2012, Vikki Stone returns with a whole new hour of songs, stand-up and depending on whether or not her dog can learn to dance…
Original Notes
Laugh my face off hilarious
Amazing songs
Dogs
TV
Simon Cowell
She was just… Great!
Review
I first met Vikki Stone about five years ago (ish) through some mutual friends and even back then I thought she was pretty awesome. Up until the Fringe however I'd not actually seen her perform any of her stuff on an actual stage in real life. So, along with only a couple of others, Vikki was on my must-see list and, to be perfectly honest, she should be on yours too. Musically gifted, comedically talented, and imaginatively filthy, Vikki's musical numbers and deft storytelling set up one of the best pay offs I saw at the Fringe. By the end of the show, both me and Robbie were crying with laughter.
Great work, Vikki. And good luck with the rest of the fringe, x
Verdict
Vikki is awesome. DEFINITELY (see what I did there?) book your tickets right now.
3. Adam Buxton: Kernel Panic
Blurb: Cult buffoon, award-winning radio host and tech-lemming Adam Buxton looks within the soul of his laptop and considers how we present ourselves in the net age (he shows stuff he's made and reads out web comments). Just four nights.
Original Notes
I thought he was OK
I think he's been funnier
I'm not sure how I feel about 'PowerPoint comedy'
Review
I'm not really sure to say about this. Adam Buxton is Adam Buxton. I guess I went in expecting to laugh a lot more than I actually did. PowerPoint comedy is okaaaaay, if done properly. But when you work with slides and give/see presentations week in, week out there isn't much that you can do with a slide that you haven't seen before. I know that sounds incredibly pompous – but it's true. That aside, some of it was genuinely funny (and Adam is obviously incredibly talented when it comes to mixing technology with giggles), I just thought it could've been stronger is all. I mean, there's only so many times you can read a YouTube comment in a funny voice, right?
Verdict
If you're a fan, go see. If not, maybe consider passing.
4. The Room (film)
Blurb: Bring your plastic spoons and enjoy a Sunday night screening of the cult phenomenon that is The Room.

Original Notes
O.M.G. AMAZING.
'What candles? What music? What sexy dress?!'
Spooooons!
Review
OK, so while those original notes might well be the most random set so far (and perhaps throughout this entire thing), however The Room deserves them oh so much. A bit of background is required. Basically, the room is WITHOUT DOUBT one of the worst films ever made. Shot in 2003 by a chap named Tommy Wiseau, The Room has developed such a cult following that, whenever it's shown, people get together and heckle and yell and shout at the screen whenever parts of the plot/script/etc stop making sense (which is basically ALL OF THE TIME). If you've not seen it before, make sure you see it at an organised screening. Watching it at home will be fun, I'm sure, but seeing it with others (who know the heckles) is just brilliant.
One of the best cinema experiences I've ever bad.
Verdict
If you can't see it at the Fringe, go see it somewhere else (I hear there's regular screenings in London).
Day Two  – August 5th, 2013
5. Avenue Q
Blurb: A coming of age story like no other, join us in Avenue Q with a cast of fluffy, filthy and unforgettable characters who've found themselves living on the wrong side of Sesame Street… Featuring an enlightening repertoire of Tony Award winning songs such as It Sucks to Be Me and What do you do with a BA in English? Don't miss out on this celebration of a decade of mischief, bad behaviour and political incorrectness.
Original Notes
Least favourite so far.
Not up to the standard I was expecting.
2-3 good characters/ actors in it overall, the rest fell a little flat.
Review
There's not much I can add to the above if I'm honest. It was a bit painful in places. If you've seen it in the West End, then don't worry about seeing it again. Needed stronger directing, better pace, and generally tightening up all over.
Verdict
If you've not seen it in the West End, go and see it when it returns. That's all I got.
6. Ten Out of Ten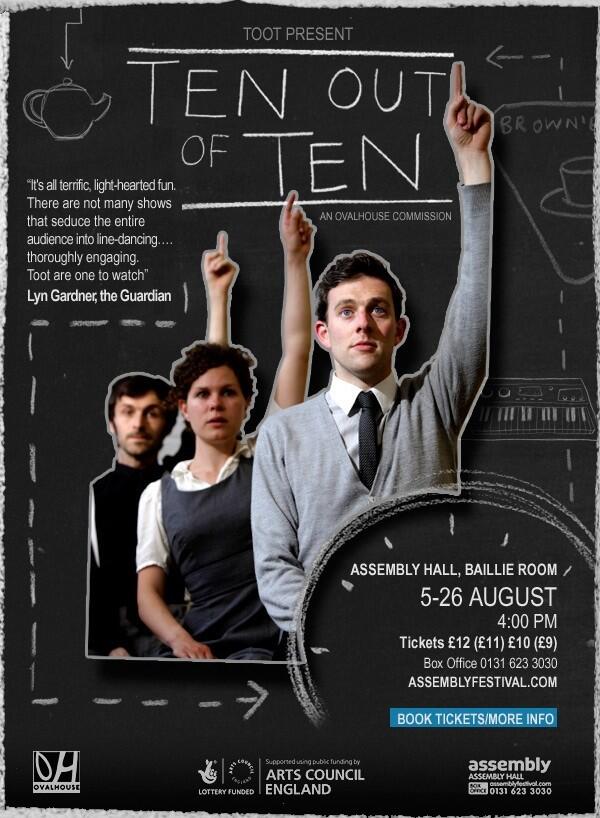 Blurb: Ten Out of Ten is a comic peek into our absurd world of triumphs and disasters. Three experts put our successes and failures under the microscope using electric guitars, the raising of hands and chalking on walls. It's all here: brownie badges and driving tests; failing Grade One Flute and that first date; climbing Mount Kilimanjaro. Join the team for an evening of achieving that will feed your eyes, ears and sense of ambition.
Original notes
Moving
Funny
Poignant
A story about love, achievement, and validation. I cried, twice.
Review
Looking back over the past few days, I think Ten out of Ten (TooT) really is my most favourite thing that I saw at the Fringe. It's a big statement. TooT was funny, sad, moving, and such a genuine surprise (apparently Robbie stuck a pin in the programme!) we just got completely swept away. Yep, I cried. Twice. And I don't mind admitting it. An emotional roller coaster of immersive theatre which tugs at the right heart strings and challenges what qualifies as achievement (and what we perceive as validation), TooT really was just ace. It spoke to me on a number of levels and I left valuing life, and all that is in it, just that little bit more than I already do.
Verdict
One of the best things I saw at the Fringe this year. See it.
7. Festival of the Spoken Nerd
Blurb: Sci-curious comedy for the fearlessly inquisitive. Stand-up mathematician Matt Parker (Things You Need To Know, BBC2), geeky songstress Helen Arney (Infinite Monkey Cage, BBC Radio 4 ) and experiments maestro Steve Mould (Britain's Brightest Street Scientist, BBC1) bring you Full Frontal Nerdity with live experiments and unashamed geekiness. Joyous, anarchic and exponentially entertaining – Nerd is the word! It's time to get your geek on.
Original Notes
Brilliant! Maths! Science!
Songs!
Conditional formatting!
"That's great"
Magenta – NOT REAL
Review
Three nerds (one physicist, one mathematician, and one scientist) get together and, through comedy and song, share insights about the world around us AND make jokes about the geekiest things EVER.
First Fringe magic moment: when Matt Parker demonstrated the rather intricate conditional formatting on one of his spreadsheets (stay with me on this one, it was funny) I said, in somewhat involuntarily awe (and quite loudly) – 'That's great!'
Of course I was right near the front and of course he heard me, he made a joke about it and moved on. A couple of days later I ran into him and explained that I really was genuinely impressed with aforementioned excel excellence and we had a hug, and hen laughed – a lot. Amazing.
@Whatleydude Was great to meet you and hug ""That's great" guy"!

— Matt Parker (@standupmaths) August 7, 2013
Sidenote: one of my favourite things about the Fringe is that the performers try and see as much, if not more than, the actual attendees. Which means the chances of running into one of your favourite acts in the street or in the back of a theatre room are actually quite high. So yeah, that's awesome.
Verdict
If maths or science (or even spreadsheets that do awesome things) tickle your inner geek: go see. Even if they don't, the three nerds are all super likeable and you'll leave having learnt something new anyway.
8. Pajama Men
Blurb: Beulah would eat a spider to fit in with the cool kids. Nadine's arm is missing and she wants it back. Franz' biggest problem is life is too easy. A procrastinating king has only 700 years to get his s*** together, if he doesn't it's certain death for everyone. 'The Pajama Men create a cartoon of the mind, a shape-shifting world in which anything seems not just possible, but imminent
Original Notes
Just. Wow.
Mime
Improv
Great narrative
This reminds me of college (in the best of ways)
Intertwined storytelling, energetic, fast, smart, clever, innovative, and hilarious
Review
Two guys, in pajamas. What else do you need? What at first starts off as a bunch of skits featuring all kinds of characters from all walks of life, slowly culminates into one epic tale that spans hundreds of years. Already I feel like I've said too much. Robbie had seen these guys before and apparently they're quite famous for who they are and what they do. This is the first I had heard of them and I enjoyed every single minute. The characters were hilarious, the confidence in both the material and between the two gents on stage was immense, and overall the thing had gasping in awe and wonder at how well the whole thing had been crafted together (and yet still with enough room to ad lib here and there as needed).
Oh, and if you don't walk away with the words 'TOO EASY!' stuck in your head as your new favourite catchphrase, you're doing it wrong.
Verdict
Go and enjoy the madness.
9. The Horne Section
Blurb: Rolling into Edinburgh with a brand new barnstorming show, The Horne Section will yet again provide the festival's best musical mayhem. Top comedians plus amazing performers combine to make this an unmissable show. Fresh from their second BBC Radio 4 series, the first band to ever host Never Mind the Buzzcocks are this year rocking an enormous cow. Be there.

Original Notes
Funny songs, hurrah!
Alex Horne is GREAT
Plus Guests!
Le Gateau Chocolat is hilarious
Robin Ince was shouty rubbish
David O'Doherty – read the euology to his still alive father whole the latter was not only in the room but also playing jazz piano with the band. Effing. Amazing. Magical.
Review
Where do I begin? I mean, the original notes above kind of carry across how amazing it was. But look, let me try: Alex Horne is a good comedian. He's also a good musical comedian. He also has an awesome band called the Horne Section. And together they're just really, really good. Obviously they have a show that they do each night but each section is punctuated with having a special guest or three with whom they just jazzzzz…
We had Le Gateau Chocolat (amazing cross dressing black guy with a velvet voice of win), Robin Ince (not as funny or as good as he thought he was), and then – Fringe magic moment number two, David O'Doherty delivering, along with his dad, one of the most moving, and hilarious speeches I've ever seen or heard. His dad can jazz. Brilliantly. And the band jazzed with him. Just amazing.
@Whatleydude THANKS JAMES! best edinburgh moment I've had

— David O'Doherty (@phlaimeaux) August 6, 2013
Verdict
While I doubt you'll get the same magic as we did, you might get something else. Go see.
Day Three  – August 6th, 2013
10. Devil in the deck
Blurb: A timeless fairy tale of love, magic and adventure set to alluring live musical accompaniment. Jack Swindle is a smooth-talking grifter cursed by a bad Tarot reading. Jack leads us into the compelling world of stings, scams and the con. Together we travel the world in search of a cure to the curse, cheating at cards to cheat death.
Original Notes
Storytelling from the Deep South with a healthy smattering of card tricks.
Great card tricks in fact.
Close up magic of the best kind.
It was a lot of fun, I cheered and whooped.
Review
Robbie and I picked this one at random, from one the huge boards outside one of the venues, after I expressed an interest in seeing some magic. 'Devil in the deck, that sounds like its got magic in it, lets go to that' – and we did. And it was awesome.
Small space, intimate setting, just two guys (one magician, one musician) and a beautiful story told from a man's heart. Every now and then he'd stop and share a trick with us, and every now and then you'd gasp as the story twisted and turned a different way. I really enjoyed this and it was quite refreshing and quite different.
Verdict
Need some card tricks in your life? Delivered by a magical and story-telling pro? Go see.
11. BBC Radio 4 recording of 'Its not what you know…'
Blurb: Miles Jupp takes the chair of It's Not What You Know, the panel show which sets out to see how well panellists know those closest to them. For in this show it's not what, but who you know that matters – and more importantly how well you know them.
Original notes
Kevin Bridges
Funny
Good wit/banter
Went on a bit (maybe I was just tired!)
Review
Robbie managed to bag some free tickets to this recording and, given the knackered state we were in, it was probably just what we needed [to sit down and listen to some Radio 4 be recorded]. It was great having Kevin Bridges on the panel  and the banter between him and Miles was hilarious. Looking at the scheduling I don't think it's actually been broadcast yet… Maybe worth a listen when it goes out.
Verdict
Fun, but probably other/better stuff you can find at the Fringe.
12. Worst of Scottee
Blurb: Scottee encounters past flames, ex-friends and people who no longer like this 'edgy innovator' (Independent) in his debut solo show. Find out what people really think of him, why he pretended to have AIDS and what prompted him to steal money from his Nan. This show will give you reasons not to like him: it is Scottee at his very worst.
Original Notes
Painful
Funny
Honest / True
Heart-wrenching
Bonus tickets!
Review
Another random find for us: my friend Benny alerted me to the fact that he'd seen Scottee put on Facebook that he'd hidden two tickets to his show in a photobooth in Boots on the North Bridge. So of COURSE we had to go find them!
And I'm really glad we did – #worstofscottee is gut-aching review of the worst things that Scottee has ever done (and the reasons why). It is at times hilarious and yet, by the end, so heartfelt and so bare – it's almost painful to watch. I wished, when it ended, that Scottee didn't leave the stage. That instead we could have all got up and collectively hugged him as we left. The openness is staggering.
Verdict
Want something challenging and different? SEE SCOTTEE.
Brilliantly intimate, heart-wrenchingly revealing, and painfully poignant: the #worstofscottee is another great #edfringe discovery. Go see.

— James Whatley (@Whatleydude) August 6, 2013
13. School Night
Blurb: Don't end up in detention, head to School Night! The comedy circuit's greatest acts tackle their own specialist subjects.
Original Notes
Stand up
Robot Wars
One. Miserable. Heckler.
Musical history
Hiding the audience
Review
Again, another 'Let's just do this on a whim' thing – School Night was pretty funny. Obviously it'll be different every night but one of the highlights for me – and probably Fringe magic moment number three – was when, after one particular audience member put her hand up to ask to go to the toilet, the compere jokingly remarked that we should all hide before she gets back. Well, WE DID.  MWAHAHAHAHAHAAH. Amazing.
Verdict
Worth a punt, definitely.
Day Four  – August 7th, 2013
14. Choose Your Own Documentary
Blurb: A found diary, a film crew and an incredible true story. Inspired by the Choose Your Own Adventure books of the 1980s, you determine Nathan's fate in a unique interactive experience. Every twist and turn is in your hands. With over 1500 versions and multiple endings, where will the story lead? Who can help you discover the truth behind the diary's pages? You decide.

Original Notes
Gorman-esque delivery
Choose Your Own Adventure style – I like!
Funny and oddly moving
GOOD. WORK.
Review
This really took me by surprise. Nathan Penlington is a self-confessed obsessive nerd and his hobby of choice is the Choose Your Own Adventure books that were huge in the 80s. As a result, the audience themselves get to choose their own adventure and route through the tale that Nathan wants to tell. And what fun it is. I really, really enjoyed this. Nothing makes me happier than listening to eloquent geeks talk passionately about what makes them tick. Good work, sir.
Verdict
Definitely worth a look (more so if you're a child of the 80s).
15. Casual Violence: House of Nostril
Blurb: Award-winning sketch terrors 'creative, strange, brilliantly performed stuff' (Kate Copstick, Scotsman) and double Malcolm Hardee Award for Comic Originality nominees (2011 and 2012) present the rise and fall and fall and fall and fall and fall and rise and fall of the most villainous bloodline in human history. There will be taxidermy.
Original Notes
League of Gentlemen-esque
Weird
Dark
Energetic
A bit hit and miss
Review
This was our one and only 'leaflet purchase'. There are a MILLION different things you can see at the Fringe each year and of course, there are a BILLION leaflets to tell you about them all. We took one for this, and decided we'd go. It was, in places, quite darkly funny. In others, it was just a bit… much. Not sure I'd see it again. Definitely thought there was something there, just not.. quite there. If that makes sense?
Verdict
Very dark. Talented performers. But not something I'd see again.
16. Tom Webb's Wedding
Blurb: I do comedy… My dad got an MBE and now I can get married in St Paul's Cathedral. It's like getting a Golden Ticket from Willy Wonka. I just need to arrange the wedding … and find love.
Original Notes

I really enjoyed spending an hour with Tom
Nice central idea
Warm, chatty, funny
Review
Tom is the compere at the monthly film/pub quiz that I attend and, fortunately enough, is actually really quite funny. Given that I've only ever spent time with Tom when he's posing such questions as 'Can you name me ten films in which a main character loses their virginity?', I was really quite looking forward to this. And I'm pleased to report it was actually really bloody good. Tom is a likeable and charming host and gets the audience on side pretty damn quickly because of it. Part of the 'free fringe' (you don't pay for a ticket, but are encouraged to throw some cash in a bucket at the end), Tom's Wedding is definitely worth seeking out if you fancy a comfy giggle with a comedian who includes you for your laughs, not just everyone else's.
Verdict
Yeah, I'd see him again.
17. Piff the Magic Dragon
Blurb: He's played Sydney Opera House. Toured with Mumford & Sons. Had over ten million hits on YouTube. And performed to over 200,000 people in a year. But enough about Mr Piffles – The World's First Conjuring Chihuahua. Piff's back too. With brand new tricks and a mind-reading fish, Edinburgh's favourite magical dragon returns.
Original Notes
One that we booked in from the off
REALLY FUNNY
Both Robbie and I got dragged on stage (me for the mind-reading goldfish, amazing)
Review
I first saw Piff perform at Shakespeare's Globe Theatre in London (for Shakespeare's birthday) and he was brilliant. He pretty much brought the house down with his now trademark mix of dark humour, sardonic wit and smart magic tricks; all of which both made you laugh and gape in awe. My face hurt I laughed so much. It's true. When we saw Piff would be at the Fringe too, then he was a dead cert. AND HE WAS AWESOME. Both Robbie and I got pulled up on stage (for two separate tricks), and I just giggled like a stupid school boy throughout.
It was just hilarious. I laughed and laughed and laughed and laughed and laughed.
Verdict
Go. See. Piff.
18. Fleabag
Blurb: F*** it. Today I am going to be a new person. No more slutty pizzas. No more porny w***s. Lots more lovely threesomes. Go. The Fleabag bites back.

Original Notes
OK, this is a riot
Strong
Monologue of hilarity
Majorly dark, but so spot on
Review
I loved this. I really, really loved it. Writer and performer, Phoebe Waller-Bridge, was simply brilliant. I laughed. I gasped. I got it. This was so good. So so good. This tale of a twisted life, told through a series of semi-successful drunken attempts at living, really does make you laugh hard. Both at the hilarity of the situations our lead finds herself in but also at the stark stupidity of it all and just how easy it is to mess things up when you let go. Go and see this. I really thought she was ace.
Verdict
Definitely one to see.
In closing…
If you made it this far, then good on you.
If you're headed up to the Fringe, then I hope this helped.
If you're one of the of performers I wrote about above, then thank you. Whether I enjoyed it or not, it was still amazing to be a part of what you pulled together.
Edinburgh Fringe 2013 is/was amazing.
If you've never been before, start looking at hotels for next year now – AND GO.
Update: Robbie's written up his words too. Also worth a look.