_____________________
Did you know, if you SUBSCRIBE to the Five things on Friday newsletter, you are 100% guaranteed to get MORE STUFF (eg: a proper intro and probably some more gifs) than reading it here on whatleydude.com.
So y'know, SUBSCRIBE TODAY.
TO THE THINGS!
_____________________
1. ANOTHER WEEK, ANOTHER 'AND WHAT A WEEK IT HAS BEEN FOR FACEBOOK' SECTION
Sometimes, when it's a slow news week, the press – especially in this country – might pick a 'villain of the week'.
One week it might be beneficiaries of entirely legal corporation tax avoidance or the next it might the dangers of kids obsessed with gaming (it's Fortnite currently, Pokemon Go before, expect that to change at some point), or social networks and THE DANGERS OF SCREENTIME.
It is what it is.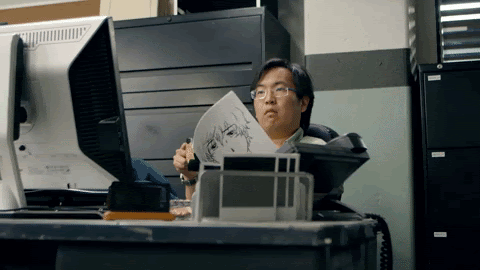 Facebook, whether you agree with it or not, right now can't seem to catch a break. I only made passing comment to its new spy-device/home-video-calling system, PORTAL last week (and it was only in an email reply conversation did I realised I'd not unpacked my thoughts on it – I'll come back to it, thanks Dev) but it was not received all that well at all. 

This week we had (first): 

'Instagram Has a Massive Harassment Problem'Â 

An essential long read that really lays out just how effing awful it is for some people on the Instagram platform. 

Worse yet, people working there are quoted as saying:Â 

"There's an effort called 'kindness,' which is to reduce bullying and harassment, but there's not that many people working on it," said Alex, a current Instagram employee who asked to be referred to by a gender-neutral pseudonym. "Generally, what you'll find is a lot of these efforts on harassment or bullying, or there's a new feature to track how much time you spend—they're mostly done for PR." Another Instagram employee told me nearly the same thing: that Instagram's anti-bullying rhetoric "doesn't seem connected to what's actually going on in the company."

I am reminded of the Listerine debacle all over again (thing three, here). 

Anyway, after that Instagram thing we have the ongoing saga of the exposed accounts issue (first they thought it was 50m, to be sure they revoked 90m security tokens, but now it turns out it was 'just' 30m). That's worth reading up on. 

As a side point, it's a bit horse has bolted but this week I went back through my Facebook account and just started deleting profile information (aka the stuff that has been exposed) and reconsidered what I want to keep on the platform. From a personal perspective, I only use the Facebook platform for two groups that I'm part of. And even that interaction is through the browser (not even the recent 3D photo update could pull me back). 

And then to top it all off, in the middle of this past week, the Wall Street Journal reported on a lawsuit that has been filed claiming Facebook knew about its over-reporting of video metrics for a year before it acted on it. NOT A GOOD LOOK.

Really. 
 
So yeah, it's been a rough week for Facebook indeed. 

OH WAIT, THIS JUST IN: as we go to press (er, who's 'we'?), former leader of the UK political party, the Liberal Democrats (the US pundits will have fun with that), Nick Clegg, has been hired to lead Facebook's global affairs and communications team.

Can't think why…Â 
Ha. This piece from the FT (that the above is from) probably says more about the appointment than anything you'll read on Twitter today (h/t Kate Bevan).
So yeah, there's your Facebook news for the week. FOR THE WEEK. Cray cray.
Finally, regarding PORTAL, Facebook initially said it had 'no plans at this time' to serve ads on PORTAL. But what you use it for, though? That's another story.
PS. Clegg has just published this to The Guardian. I'm about to read it, you should too. 
_____________________
2. Y&R
You hear stories and then you hear stories. All of this is entirely believable and, well, entirely on par for the advertising world of old (that I've oft-heard about and ne'er encountered). 
_____________________
3. A FEWÂ THINGSÂ REGARDING RED DEAD REDEMPTION II
HEY YOU, NON-GAMER, DON'T SKIP THIS SECTION QUITE YET.
First off, in the same way that Marvel's Spider-Man (for PS4) trailers and posters were literally EVERYWHERE a few weeks ago, expect the same from the incoming western 'sim' RED DEAD REDEMPTION II.
Things to know about this game:
1. It's expected to be MASSIVE.
2. It's out on October 26th.
3. I'm almost intimidated by how massive it is.
4. I know SEVERAL lapsed gamers that are specifically coming back for this game (you know who you are).
Bear in mind the original came out May 2010 on last gen machines (PS3 and Xbox 360), that's a huge statement. More so that we're headed towards the end of the life cycles of the machines they're launching on – the fact that one new release can drive hardware sales is testament to how big a game this is and just how much, if you'll pardon the pun, is riding on it.
5. Enjoyed S1 of Westworld? Imagine that but without the crazy robots. 
6. Here's a ridiculous gameplay trailer. 
7. Don't try and talk to me after Oct 26th. 
_____________________
4. BYE BYE GOOGLE+
If you haven't read this massive thread on how bad everything was over there back when G+ was a thing, you should.

Neither Google or the author come off that well IMO.

But still. Silicon Valley is mental.
_____________________
5. SMART DOORBELLS REDUCE CRIME BY UP TO 55%
_____________________
THE ESSENTIALS:

The Indian Government (again – but with impact)
_____________________
THE BONUS LINK SECTION OF BONUS BONUS LINKS

Right you animals, let's get these bonuses IN AND ON.
_____________________