REMINDER:Â if you SUBSCRIBE to the Five things on Friday email newsletter, you are 100% guaranteed to get MORE STUFF than reading it here on My Happy Place.
You can do that by hitting the inconspicuous button that may or may not be below this sentence.
➡️  [SUBSCRIBE TODAY]  ⬅️
Shall we crack on?
//// ⭐️ //// ⭐️ ——— ⭐️ \\\\ ⭐️ \\\\
1. GEN XENNIALS
I don't REALLY have to repeat how much it makes my gut reach whenever I read some of the latest guff around generational 'cohorts' now do I?
For those of you that didn't throw up the moment you read the above thing title, keep reading!
The 'micro-generation' of people born between 1977 and 1983 (and the reason that this, ahem, research is appearing in this edition MAY WELL BE because I fall into said category) now have their own name.
GENERATION XENNIAL.
— passes the sick bag —
AHEM.
It says here: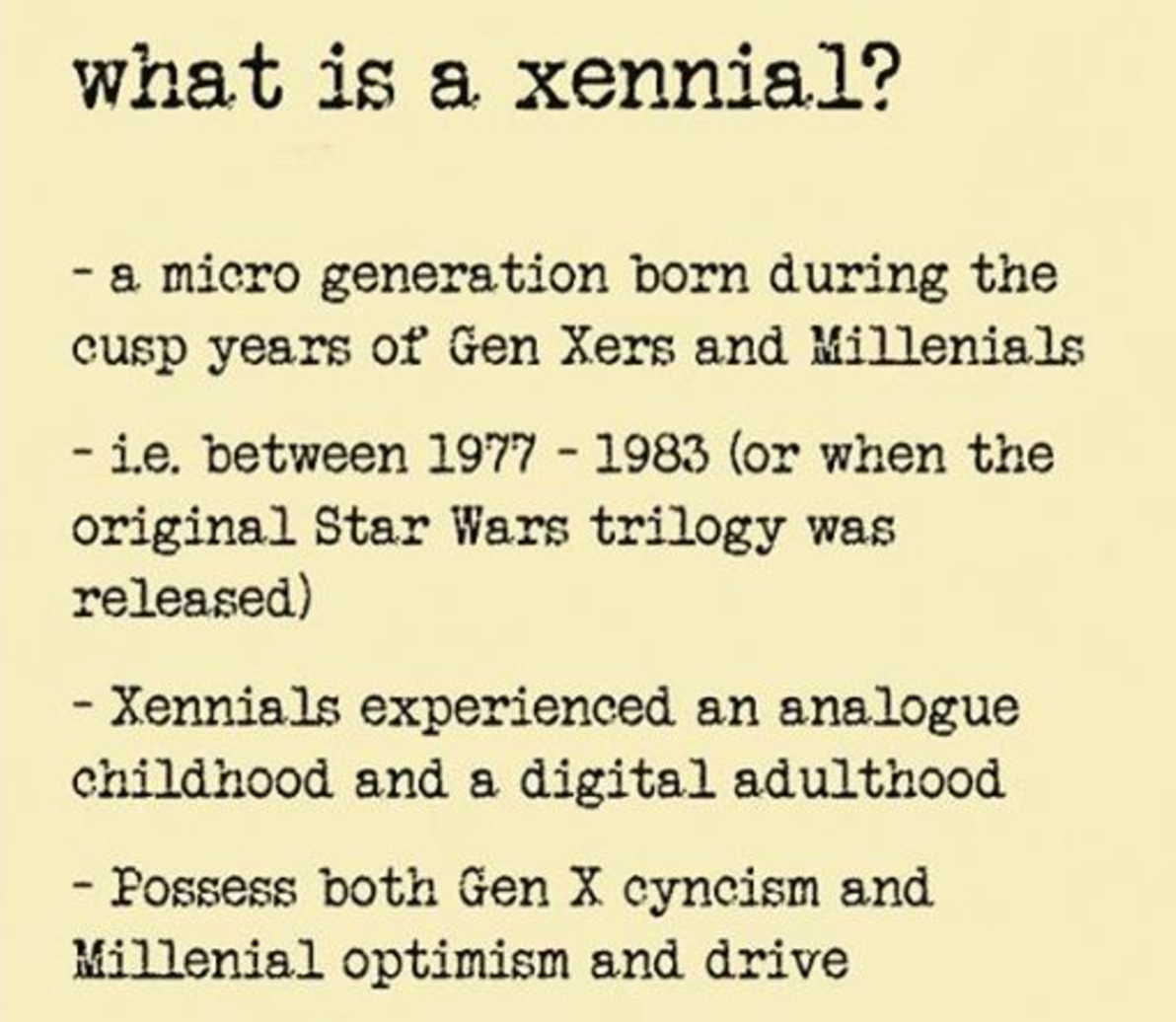 Look. I get it. That is definitely me. And the full definition makes a lot of sense.
But it's still a massive wang-a-thon. 
I've said it before, if you want a decent take on all things cohort, you could do a lot worse than read this excellent piece by Jed Hallam – 'Millennial is a useless term'Â 
Xennials. I mean, really.
— — — — —
2. WETHERSPOONS DELETED ITS ENTIRE EMAIL DATABASE – ON PURPOSE
I AM SO HERE FOR THIS.

WIRED* is reporting that UK pub chain (and oft-favourite haunt of student-Whatley) J.D. Wetherspoons has deleted its entire email mailing list and says it will stop sending newsletters via email completely.
JDW's CEO, John Hutson, wrote to its subscribers last week and said –
"Many companies use email to promote themselves, but we don't want to take this approach – which many consider intrusive. Our database of customers' email addresses, including yours, will be deleted."
BECAUSE WHO WANTS MORE EMAIL, AMIRITE? 
This is nothing short of superb.
Like I said, WIRED has the full story.
Worth a read.
—
—
–
*Incidentally, I subscribed to WIRED magazine this week. £28 for 24 issues. That's £1.10 per issue. Not bad. 
— — — — —
3. THE SECRET HISTORY OF PIXAR'S CARS UNIVERSE
Buckle up.
Shit's about to get weird.
 (this is probably my favourite thing this week)
Earlier this week, I read the following:
—–
"One of the beauties and dangers of the internet's ability to dilate fandoms so that they never begin and never end is that people get to spend too much time thinking about stuff. For instance, Cars 3 — the latest kid-friendly Pixar film — is out today, but it will likely not address the fact that a car genocide happened in which Car Hitler exterminated 6 million Car Jews during Car World War II. It is very easy to prove that Car Hitler is real, using canonical Cars lore.
The general line of thought is something like this: The Cars-verse includes a World War II–era Jeep named Sarge, who explicitly references events like the Battle of the Bulge. In the direct-to-DVD film Planes (made by Disney but not Pixar), there is an actual WWII flashback in which the plane Skipper recalls losing his entire squadron in the Pacific Theater. Assuming that Car WWII occurred, and that it contains the same contours as the actual WWII, we can assume that there were Car Axis powers, and thus a Car Hitler."
The problem with this stuff is the more you read it, the more you just want to keep scrolling…
Which you're going to do once you click through and read the whole damn mind-bending thing.
— — — — —
4. A SECTION ABOUT MOVIES + STUFF
There's a whole bunch of film-based news/knowledge/trailers that I've missed while away so I'm bunging it all under one section (save running a whole FToF dedicated to movies – but that might still happen one day – maybe).
Ready?
In no real order whatsoever:
______________
And that's that section done. While we're here though, let's throw in another bit. Being off work for as long as I have, I've been catching up with a number of box sets I've had my eye on:
13 REASONS WHY (Netflix). Hard watching. But very good.
AMERICAN GODS (Amazon Prime). Made by the same team that brought us the HANNIBAL TV series (still my favourite TV show of all time ever – not kidding), AG has some stellar performances but overall suffers from assuming too much knowledge on behalf of its audience. EXPLAIN MORE STUFF PLEASE AMERICAN GODS. THANKS.
PREACHER (Amazon Prime). I started this AGES AGO but with S2 arriving I figured I'd revisit. It is gruesome, weird, messed up, and (unlike AMERICAN GODS) includes a decent plot. I enjoyed it.
HOUSE OF CARDS (Netflix). Do I really need to talk about this?
Over to you, dear reader…​
— — — — —
5. OMG – COMPETITIVE PUNNING
This week, on 'RANDOM THINGS I HAVE WATCHED ON THE INTERNET', this video utterly killed me.
Go. Watch it. Then come back.
So yeah, found that video via this AMAZING article on Fast Company that explains how Joe Berkowitz spent a year exploring the culture in and around COMPETITIVE PUNNING.
"The best pun I heard during the course of writing the book was: 'I went to go shopping for cherries and microphones the other day: bought a bing, bought a boom,'" Joe told me. "The worst pun I heard was: 'If steaks can't satisfy you, can ribs?' where the words 'Can ribs' were somehow supposed to form a pun on 'Cribs.' This was 15 minutes into a pun duel about furniture and all the good puns were taken, but still: wow," Joe recalled.
If you only watched the video at the start of this section then I will be happy but this whole thing, in general, is so mentally brilliant, I can't impress it upon you enough to go read, explore, and enjoy/cringe/laugh.
— — — — —
BONUSES THIS WEEK ARE AS FOLLOWS:Â 
HERE BE THE BONUS SECTION. AKA: 'THE SELECTION OF LINKS THAT JAMES FOUND INTERESTING ENOUGH TO SHARE BUT NOT INTERESTING ENOUGH TO ADD A WHOLE PARAGRAPH OR FIVE OF THOUGHT ABOUT'
DON'T SHY AWAY, MIND. THERE BE GOLD IN DESE HILLS.
DEEP BREATH.
HERE WE GO.
— — — — —
And I think that just about wraps it up.
WHAT A WEEK. 
I'll try not to leave it so long next time.
Whatley out.