Afternoon all,
Its 17:33 here and I just had my first Colema!
What an experience that was.
This american guy explained it all to us before hand and then he set one up as a demo (thank the Lord he used my room – i didn't have to set it up).
Basically – you hang this bucket on a hook and with a tube coming out of it. In the bucket is coffee, water and vinegar – guess where the other end of the tube goes.. Yup. In there. They give you your own KY and everythin'.. Hmm Hmmmmmmmmm!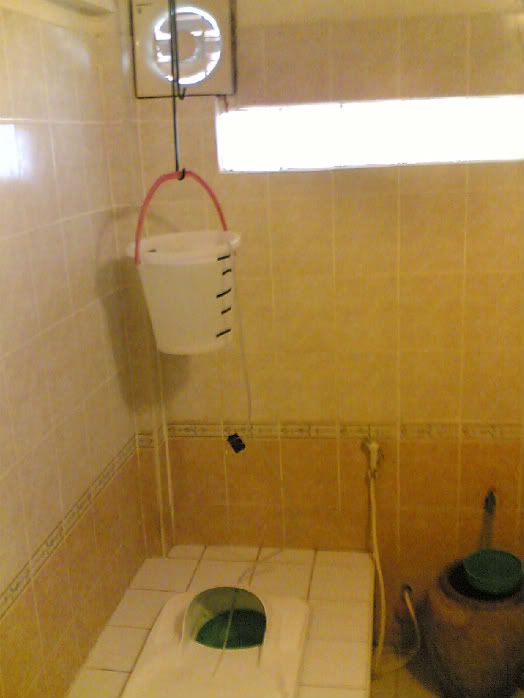 Anywhoo – the first one is apparently quite traumatic as it's 'real proper poo' as some girl described it to me… and seriously – EVERYONE talks about their poo here – its hilarious..
But it wasn't so bad – Just laid back and listened to some MP3s.. (Ministry of Sound – Chillout, if you were wondering)
Think I did it right..
So yeah – I took some footage afterwards (after I'd cleaned up) and tomorrow I'll get some before hand too so you can see what I have to do..
Then I'll see if I can upload it on here – I know you're all DYING to see it!
lol
On the regimented strict regime side of things.. its cool –
The detox drinks can be made up to take away with you.. and the supplements are given to you first thing so you carry those around with you all day.
Me and and this bloke I've met, Steve, got a cab into Chaweng earlier – did a bit of shopping.. got me a cool Diesel belt which does up like an old school airline belt.. its wicked.. that was like three quid..
..Got a new Diesel bag too – my other stripey one got torn on my through
Heathrow.. I'm gettin the hang of this barterin malarky too – I got quoted 1800BHT for my bag and I got her down to 850!
Crazy…
Yeah.. Got some flowery soapy things for the ladies in my life as gifts and also… last…. but NOT least..
THEY DIDN'T HAVE ANY NINTENDO DS CHARGERS!
But clever old me remembered that SPs share the same charger as a DS.
So I got me an SP charger for like two quid.
My DS is charging as we speak.
Tomorrow – I'll be playing Metroid while having my sphincter cleaned.
I bet there's not many people who's said that before!
lol
Anyway – must dash – there's some veggie broth and coconut milk over there with my name on..
Speak soon..
( oh and there's a TV room thats currently showing 'Corpse Bride' behind me – apparently they show reruns of 'Celebrity Detox' too – which was filmed here! Dunno if you know it – had Kim Wilde and Richard Blackwood on it – but yeah – that's the place… )