Good morning one and all.. its 945am here and all is good.
So yeah – carrying on from yesterday's post – last night Kim, Sheli, Jen (that's them below) and I all went out in Chaweng.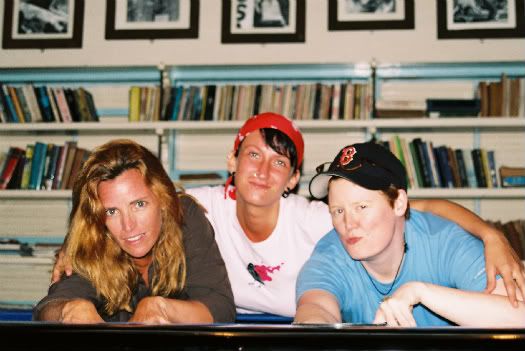 I love this place..
So yeah – we caught a Suntao into Chaweng (Suntao – its like an open back van that they use like buses.. 50bht or so each to go wherever you like – just ding the bell to get off) ..and we went strolling to see what was going down groove town..
The girls SO wanted to see a Ladyboy show – I was like… "oh……..kaaaay"
Sheli decided I was going to need a 'designated anal protector' so the girls took it in shifts.. lol – very amusing.. but dudes.. I had SUCH a giggle..
So yeah – we get there and the show doesnt start til later, so we do a bit of shopping (picked up a few CDs.. Kim got a painting), and wander round the clubbing strip for a bit – we found (what we thought was) a strip club and again the GIRLS were well up for going in there! I was cool with anything they wanted to do – so it was decided that was where we were gonna go after the lady boys.. Heheheh..
So yeah – off we went to the lady boy show… and it was brilliant – I'd recommend everyone sees one of these just once in their lives! It was so bizarre.. Jen was just cracking up because I just had this constant look of bemusement and confusion on my face the whole time… we were really good too by the way – we didnt have one alcoholic drink.. Well.. Kim did, but she finished her fast the day before so she was allowed… (we didnt TRY and get her drunk – HONEST!)…
Yeah, ok – so… when you hear people chattin about Thailand and stuff and you hear about the ladyboys you think to yourself.. "Muppets.. I could spot one a mile away."
I admit – I thought the same thing.. and for 99% of the time I was right – but this bird/man/thing came on and Jen was drooling… "SHES SO HOT!" she yelled.. and I had to agree.. I was like dude.. there's no way she's packing weapons under there.. so yeah – that was only ONE ladyboy out of about thirty.. but if there's more out there like that one – then you can see why some people make the mistake… Jeez man.. talk about uncomfortable.. … … … … … … …so I got my photo with him afterwards! HAHAHA…… brilliant – I was laughin' so hard!
So after that we went back to the suppos-ed strip club – went in.. sat down.. and lo and behold …it was just some dancin girls.. in their underwear.. we got all excited when we saw signs that said: "Ping Pong Balls – 20bht" ….no – it wasnt that.. thats what we thought it was.. it was just tips.. every time you bought one you could throw it at the girl you liked…. and she'd get a tip.. I mean.. WTF?! Crapola dudes.. so yeah – stayed there for one drink (of water) before moving on to find somewhere to dance..
Which we did.. I have no idea what it was called but we just rocked up and started dancin to whatever was playin – it was cool… danced like a maniac! lol – although saying that… you ever tried dancin' in flip flops?! Can NOT be done.. not the way I dance anyway.. ahem… so yeah – we all danced until about half one ish.. then caught a suntao back home again – got home about 2ish.. had a shower and passed out.
Cool. Beans.
Yesterday was a good day.
*smile*
Today – well so far I've had one detox drink, one set of pills, one colema and I think I'm due my next detox drink right about now… but yeah – I think the girls are talking about hiring some bikes and going on an island tour.. so I reckon I might tag along.. I am proper skint but I reckon I might be able to jump on the back of one of the bikes.. although saying that – I reckon I might be able to afford it – just depends how expensive/cheap the mopeds are..
So yeah – that' s the plan for today.
Oh – saw Lauren this morning – she's a full day out of her fast now and she's positively glowing.. so fingers crossed I will be too.. Steve's nearly there also.. DAY FIVE FOR ME DAMMIT! ….one good thing mind, Jen the Lesbo (aka 'ZenJen') is also on Day Five so I've finally got a fasting buddy.. and she's a mentalist to go with it.. hehehe..
So yeah – I gotta go grab my detox drink.. then find out what the plan is..
Laters dudes.